Loan Kaise Le
Navi App से Loan कैसे लें ? Navi Personal Loan Apply Now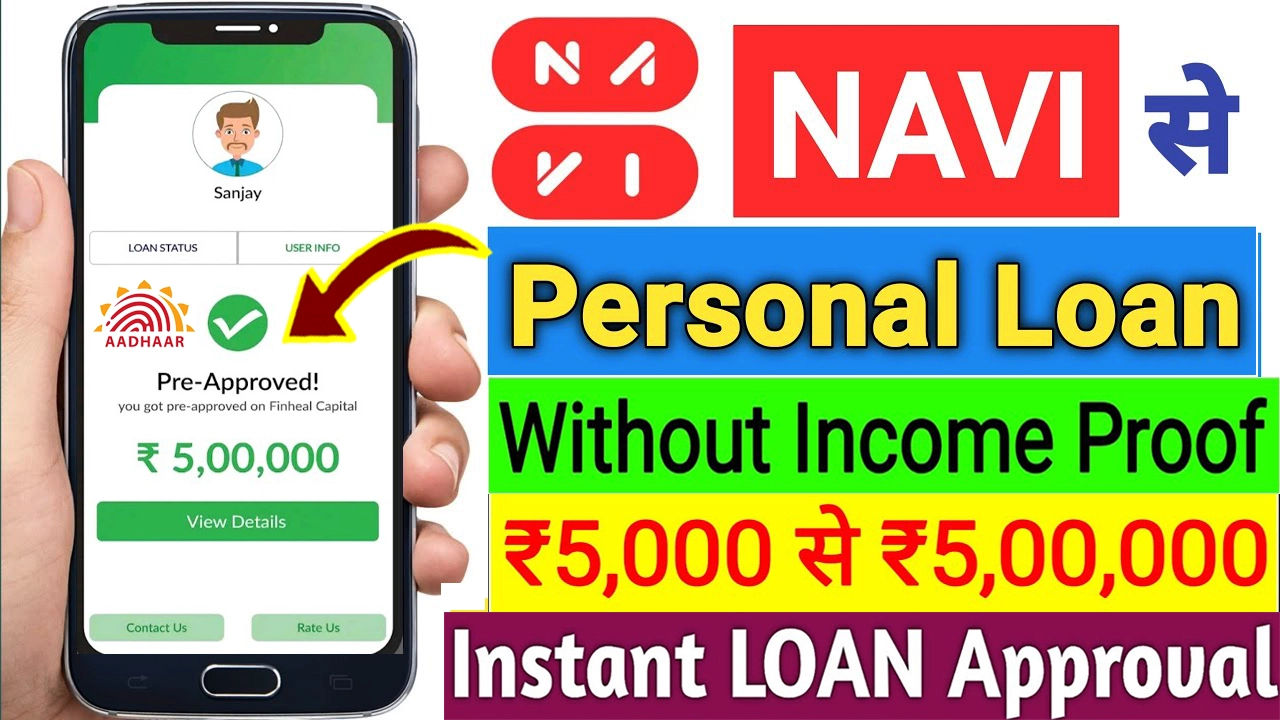 If you need a large amount of loan and you feel frustrated from all over, then this article of yours is going to be very useful for you. In today's article, we are going to tell you about Navi Instant Personal Loan App, from where you can get home loan up to 1.5 crore and personal loan up to 5 lakh in easy installments.
What is the process of taking a loan from Navi app, what is the eligibility for taking a loan. What documents will be required, how much loan will be available, what will be the interest rate and how to contact Navi, you will get all these information through this article. That's why you must read the article completely, only then you will be able to get complete information about Navi App Loan.
If you need money immediately and are tired of running to the bank, now you can take an instant personal loan from the Navi Loan app on the Google Play Store. You just need to complete the registration and after filling some information you can get the loan amount in your bank account and you can use it for bills, recharge, buy products online, EMI payment etc.
Friends Navi application is a digital fintech company, with the help of this app you can take personal loan upto 5 lakh rupees from your phone in few easy steps,
This company "Navi Finserv Pvt. Ltd." provides app based loans to the user through which any user can avail loan as per his eligibility by installing Navi app on his phone at home,
If you understand in simple terms, there is an app according to the various needs present in your phone, if you ever need money, you can take loan from Navi app just by doing KYC.
How to Apply for Instant Personal Loan on Navi Loan App ?
First you need to download Nabi app from Google Play Store.
After that you need to register your mobile number.
After that, you have to fill the basic information and check for your loan approval.
If your loan is approved then you need to select your MI.
After that you need to upload your selfie, aadhaar card and pan card.
After that you need to provide your bank account information.
After that you will get the loan.
Navi app gives you loan in which state
Also Read : Loan Kaise Le

Navi app personal loan features : Navi App से Loan कैसे लें ?
Upto Rs 5,00,000 limit
Instant money transfer to bank account
No bank statement or salary slip requirement
100% paperless process
Minimal documentation. No printouts required
Flexible loan and EMI amount options
Instant eligibility check
No security deposit (collateral)
Zero foreclosure charges

Eligibility : Navi App से Loan कैसे लें ?
You need to be an Indian to get a loan from NAVI app.
You must be over 21 years of age.
NAVI Loan App is available in metro cities and major cities of India If someone is from Gao, they may not get NAVI instant personal loan and their loan application may be rejected
Sachin Bansal is the founder of Navi Company. who is a software engineer and the founder of India's largest e-commerce industry company Flipkart.
Sachin Bansal launched a mobile app to provide instant loans to middle-income customers. Which established its dominance in the market within a few days.
Navi Lending App offers instant loans up to ₹5 lakh with repayment tenure of up to 36 months. The loan process for customers is completed using a completely digital and contactless process.
Also Read : Aadhaar Card Se Loan Kaise Le
How to take loan from Navi app ?
Install Navi Loan app on your phone from Play Store
Create account with your mobile number
On the next screen, you will be given the initial loan limit which may be more or less after KYC.
To do KYC, fill complete information about yourself like name, address, job and income information
Now you need to upload your KYC documents like Aadhaar and PAN card
If you are eligible, you will see the loan limit on the screen.
To take that loan, accept the loan agreement through Aadhaar OTP,
Providing bank account information
After approval, this loan will be credited to your account within few hours.
Pay EMIs on time and get more loan limit easily later on
Navi Benefits : Navi App से Loan कैसे लें ?
Personal loans up to Rs 5 lakh for 24 months are available
Home Loans up to 1.5 Crores available through Navi app.
Get instant loan without collateral
You can take loan at home
Loans are available with minimum documents
Loan can be availed from anywhere in India
Loans are available in any profession
Get instant loan at lowest interest
Loan facility in just 30 minutes in case of emergency
No need to go anywhere and submit documents
Instant loan approval
How much loan can be obtained from Navi app ?
If you are still wondering how much loan can be availed from Navi app, then for your information, let me tell you that Navi is an instant personal loan application, with the help of this Navi personal loan can be availed from ₹ 10,000 to ₹. 5 lakhs.
For this you need to have a good credit score. If you live in a metro city, you will get the loan amount in your bank account immediately after approval.
Navi Loan Fees and Charges : Navi App से Loan कैसे लें ?
Let us know about the fees and charges applicable on Navi Loan.
Interest – Interest up to 30% per annum
Processing Fee – Around 2 to 5%
GST – All charges are subject to GST charges of up to 18%
Penalty – You will also have to pay additional fees for late payment.
What documents are required to take a loan from NAVI app ?
ID Proof – PAN Card
Address Proof – Aadhaar Card
Source of Income – Bank Statement
Photo – Selfie (photo taken with phone)
NAVI Loan App Customer Care Number
Customer Service +91 80108 33333
Email: [email protected]
Friends, below you have given the customer care number of navi loan company, from where you can contact directly. Navi loan contact number is 80108 33333
Hope I have been able to give you good information on how to get a home loan up to 5 lakh from NAVI Finserv with a maximum tenor of 36 months. So, if you like the blog, then definitely share this post with friends and subscribe to this blog. For more information on NAVI loans, visit www.navifinserv.com